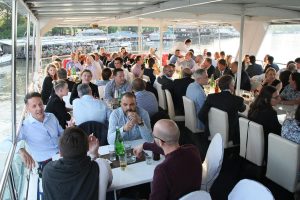 Sponsorship status is a distinguished sign of the company's leadership aspirations and high professional standing in the European mining industry.
---
Sponsorship offers companies exclusive features and visibility at the Forum.
---
Main sponsorship packages (Lead, Platinum, Gold, Silver and Bronze) are tailored for companies keen on projecting their leading or proactive role in the mining sector.
---
Program sponsorship offers companies opportunities to share their advanced knowledge and expertise with the Forum's professional audiences.
---
Networking events sponsorship empowers companies with exclusive brand visibility and promotional opportunities at the Forum's networking events (coffee breaks, cocktail receptions, lunches, dinners, site visits, etc.)
---
Co-branding sponsorship options offer companies promotional and marketing opportunities. In addition to the Forum sponsorship, companies can sponsor trade delegations, student program, competitions, associated events and site visits.
---
Previous sponsors 
Enquire about sponsorship opportunities: